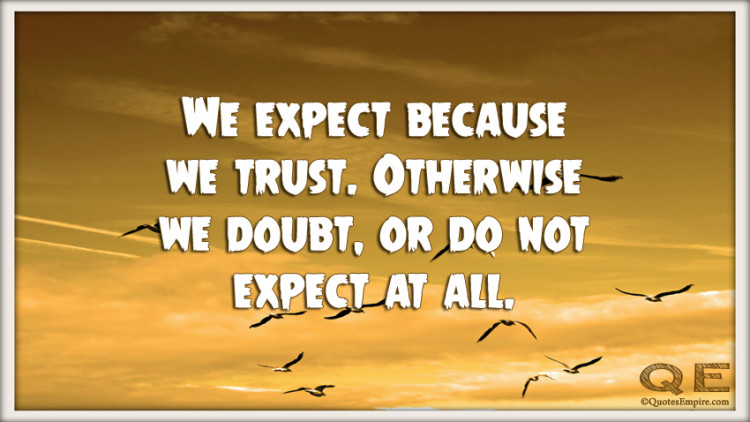 Setting Expectations Crucial to Customer Satisfaction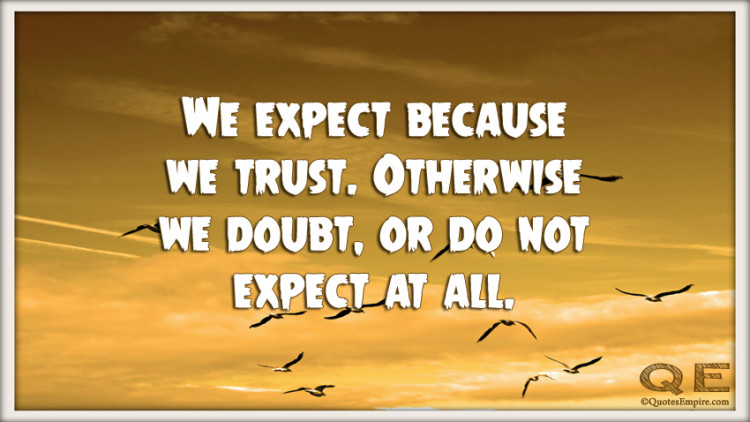 Every time a customer interacts with your company, they have a pre-conceived expectation of how the product or service they receive will be. Expectations will typically be formed based on past experience, both with your company, and other similar companies they have dealt with in the past. Where experience is lacking, customers will make assumptions about what they expect. When these expectations are not met, the consequences on satisfaction are devastating.
My 4 year old provides an excellent example of this. For the past several years, my family has traveled to Kelowna every summer to visit relatives. On the way to Kelowna, we spend a couple days in Revelstoke visiting some of the sites and attractions in and around the town. Every time through we have stayed in the same hotel which includes a small pool, hot tub, and free breakfast. Last year however, I found a similar hotel which would save us some money, had a better breakfast (according to online reviews), but only had a hot tub. I discussed it with my wife and we decided that we would try this other hotel and see what it was like. However, we neglected to discuss this with our 4 year old…
When we arrived in Revelstoke, we had to pass by our usual hotel to get to the new hotel. As soon as we were in the townsite, our 4 year old realized where we were. He perked up and shouted, "There's the hotel!" pointing at our typical hotel. As we drove passed, he shouted, "Turn Daddy! No, turn Daddy!" and started to cry as I told him we were staying somewhere else. While he did eventually get over it, the hot tub wasn't as fun, the breakfast was no better, and the utter disappointment we had caused our son was not worth the ~$30 in savings. Our son knew we were going to Revelstoke and had expected to stay in the same hotel we always stayed at; since we didn't, he was devastated.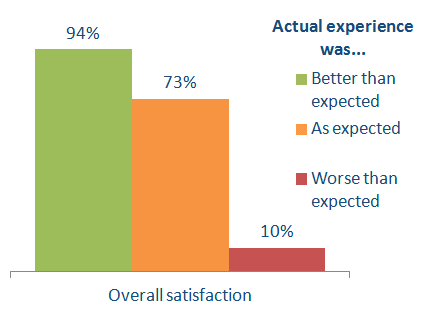 While this anecdote is a good example of why expectations matter, data supports this as well. In this example respondents received service from an insurance provider. Unsurprisingly, exceeding an expectation delights customers and simply meeting expectations leads to moderate satisfaction. However, the number of customer reporting that they were satisfied after not having their expectations met is disastrously low!
Clearly, you will not be able to meet all expectations all the time. However, you can set (or reset) a customer's expectations at the start of an interaction. For example, online shops tells you how long shipping will take, vehicle manufacturers tell you the expected gas mileage of their cars, and automated phone systems sometimes tell you the expected wait time. Doing these, or anything else to set the customer's expectation will at worst maintain, and possibly raise, their overall satisfaction with their experience, event though the product or service you provide ultimately remains unchanged.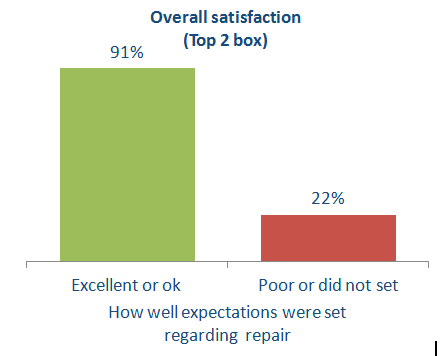 Indeed, the act of setting expectations prior to a service repair leads to much higher levels of satisfaction with customer's visit. Setting expectations can also leave customers with the perception that they received more than they expected.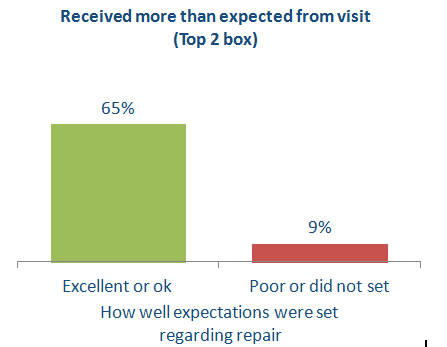 Are your front-line employees setting your customer's expectations? As they say, "an ounce of prevention is worth a pound of cure": it is much easier to prepare your customers for the interaction with your company than it is to determine why they are upset and correct it after the transaction. Finally, as you might expect, our family stayed in our normal hotel when we stayed in Revelstoke this year!
---

Patrick Kyba
is a Consultant with Advanis. Patrick plays a lead research role on projects having responsibility for survey development, survey programming and testing, development of analysis plans, data cleaning, weighting, and report writing and production. He strives to find the best reporting solution for his clients, from simple tables and graphs to complex automated online reporting or detailed custom reports.
Subscribe to our blog
Get our insights blog updates right to your mailbox once per month. No spam, we promise! Your email address is always safe.
Advanis API surveys For Mobile Apps 19 August 2020
Measuring Customer Experience through Purpose Journeys 17 March 2017
Human Experience in Insights - perspectives on a recent webinar 16 April 2020