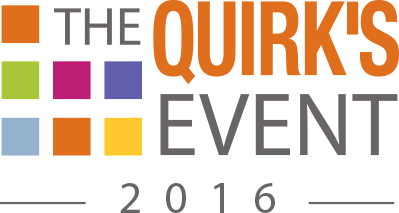 Quirks Event Conference Review: Confidently finding our place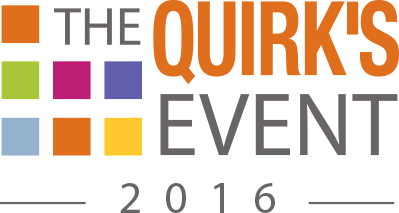 Last week, the Quirks Event conference took place in Brooklyn New York. With 1,200 attendees, 90 speakers and a room full of exhibitors, the event was a jam packed two days of learning. I was thrilled to be one of the speakers (thank you to everyone who attended). Here's a summary of what I saw and learned.
(I should caveat that Quirks has 5 simultaneous presentations during each speaking slot. It is entirely probable that others experienced an entirely different conference than I did.)
Research/Insights Departments are Reasserting Their Role
After a few years of the market research industry lamenting that "the sky is falling" and that we have to "reinvent or perish", this year, it seems that more and more firms have actually found ways to reinvent themselves and presented this, both as new ways doing research, and interestingly, new ways of organizing research departments within corporate clients. Like many other areas in an organization, marketers are faced with a "content tsunami" with nuggets of data at every corner (everything from social media, advertising, analytics) in addition to primary research. Combine that with simple to access DIY tools, and some market researchers had struggled to design and assert their role within their organization. At Quirks, we saw several examples of ways to assert a strong insights role:
Brian Ley at Valspar accepts that DIY can play a role in providing fast, less complex insights, meeting a need to provide rapid feedback to the organization.
Carol Shea of Insights Central provided a framework to help researchers focus on the strategic needs of the C-Suite, to maximize effectiveness, and three ways this process can be derailed [rushing, focusing on individual projects, and not defining your role].
Marcus Jiménez, CEO of Sticky Docs left me with one memorable quote "Simplicity is subtracting the obvious and adding the meaningful". This encapsulates our role as researchers to provide expertise on survey design and importantly, to define context in data, no matter the source.
Human Centered Market Research
Both Katharine Giari of Etsy and Kelley Styring of Insights Farm spoke of the power of putting the 'human' first in market research - in actually getting out into homes and stores (with your end clients) to see how people interact with your product or service, and the messy non linear journeys that they take on the path to purchase. Focusing on individuals (think of this as the small data counterpoint to big data analytics) enlivens research results for the users of market research. Instead of designing a new car for Millenials, now you can envision Bob (who is a Millenial) behind the wheel, and design for that person.
What's my Elevator Pitch?
Market research agencies and corporate researchers alike are looking for impactful, insightful ways to disseminate messages to research end clients and organizations at large. Exhibitors at the Quirks Event included technology companies offering dashboards or analytical packages. But clearly we're still looking for ways to perfect our 'elevator pitch' - a session by Kelsy Saulsbury from Hallmark Cards on how to create great infographics was standing room only. Infographics challenge market researchers (especially our desire to 'show all the data') to only tell part of the story; to use it as a teaser to entice follow up requests.
I believe that market researchers would benefit from looking outside our industry for new examples - to look to the ways that sales, advertising, and marketing are communicating within the organization, for example. What best practices can be adapted for market research?
Next Year
In 2017, this very popular (sold out) event will split in two, with the first ever West Coast Quirks Event taking place within a few weeks of the East Coast edition. I am already looking forward to next year.
Ask First, Listen Second
Couldn't attend the Quirks Event? Would you like a private presentation of Ask First, Listen Second: How a Quant Researcher Found a New Love for Qual?
Please reach out. Here's a teaser:

Lori Reiser is a Principal Consultant at Advanis. Her consulting engagements focus on ensuring that the consumer is heard at the strategic table - reducing risk in marketing decision making.
Lori can be reached by calling
888-944-9212
, via
e-mail
, or on twitter
@LoriReiser
Subscribe to our blog
Get our insights blog updates right to your mailbox once per month. No spam, we promise! Your email address is always safe.
MRMW 2013 Highlights 30 July 2013
Our Perspective on NetGain 2015 29 January 2015
Quirks Article: A Choice In the Matter 23 May 2014