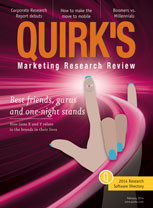 Quirks Article: A Choice In the Matter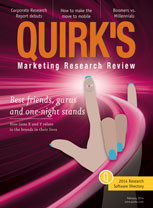 Matthijs Visser recently published an article in Quirks Magazine, called "A Choice in the Matter". This article illustrates the importance of offering choice in method for survey participants to respond to surveys, and how offering this choice increases response rates, particularly among harder to reach segments such as youth. Read the full article here.
Matthijs presented this at the Market Research in the Mobile World conference in Chicago May 27th, 2014.
Subscribe to our blog
Get our insights blog updates right to your mailbox once per month. No spam, we promise! Your email address is always safe.
Related Articles
87% of participants say that our surveys are better 01 October 2014
Impact of Mobile Optimized Surveys: Young Adult Audiences 17 February 2016
Get Rid Of That Grid! 25 April 2016