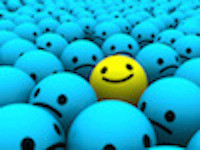 Last summer, Sports Illustrated writer Richard Deitsch sent out a Tweet asking people to share a photo of the best moment of their lives. The response was overwhelming and covered by many of the mainstream media outlets. Wedding pictures, pictures of moms and dads holding their first child, miraculous hospital recoveries, and many other occasions passed the scene. What struck me though was that all the pictures followed three main themes: love, family, and health.
I find it intriguing that what makes people truly happy seems to be universal while the list of things that have the potential to "tick us off" seems to be endless.
After more than 10 years of studying consumer behavior, I have come to realize that a similar principle applies to customers' interactions with the organizations they purchase products or services from. Looking through the themes generated based on hundreds of thousands of verbatim responses from customers about their recent customer service interactions, the vast majority of those from happy customers fall into one or more of the following 3 themes:
Issue was resolved (incl. question answered / found what I was looking for)
Issue was resolved quickly
Staff was friendly
Looking at the verbatim responses from unhappy customers, we see a completely different picture: the reverse of the 3 themes mentioned above are mentioned most frequently, but, even when combined, they represent less than half of these customers' open-ended feedback. In other words, less than half of the verbatim responses from unhappy customers fall into one or more of the following themes:
Issue was unresolved
Issue took long to get resolved (incl. long wait time)
The rep was not friendly / rude
What we see instead is a long list of grievances, most being mentioned by no more than 1-2% of customers.
So there we have it: what makes customers happy is fairly universal, while the ways in which to mess up the experience seems to be endless.
What does this mean for your organization?
Firstly, there is virtually never a "silver bullet" for drastically improving the customer experience overnight. There is no quick-and-easy fix that could have prevented a negative experience for a large portion of customers. The nature of those experiences is too varied to allow for a quick fix.
Instead, it is crucial that each stakeholder is empowered to contribute to an improved experience for the customer. This includes a Customer Experience Measurement program that:
Quantifies exactly what practices result in the positive outcomes listed above (reps being able to resolve issues quickly) and what is holding your organization back from providing a positive customer experience. This could include:
Quantifying how to achieve the ideal customer experience
Comparing and contrasting those with high customer experience scores with those with low scores to determine best practices
Keeping track of key customer satisfaction drivers across the organization to ensure that every level of the organization is being held accountable for those practices
Collects high-quality data. Poor quality data will instantly undermine the credibility of any CEM program.
Collects customer feedback down to the rep-level to facilitate coaching. Feedback from customers can provide a powerful coaching tool.
Allows all stakeholder easy access to insights generated by the CEM program.
This should include strategic insights for those in charge of customer experience strategies and policies, as well as tactical tools, such as those allowing for coaching of frontline staff mentioned above.
Rewards those who excel in providing an excellent customer experience.
Enables frontline staff to take responsibility and rectify suboptimal customer experiences (where possible).
Learn more about Advanis Customer Experience programs, or contact Matthijs Visser
---

Matthijs Visser
is a Principal Consultant with Advanis. Matthijs designs and leads ongoing customer experience projects, often involving high-volume data collection methodologies, sophisticated quota schemes, and developing online reporting solutions to serve a large number of end-users. He is passionate about finding solutions to each client's unique challenges, whether they be technical, operational, or analytical.